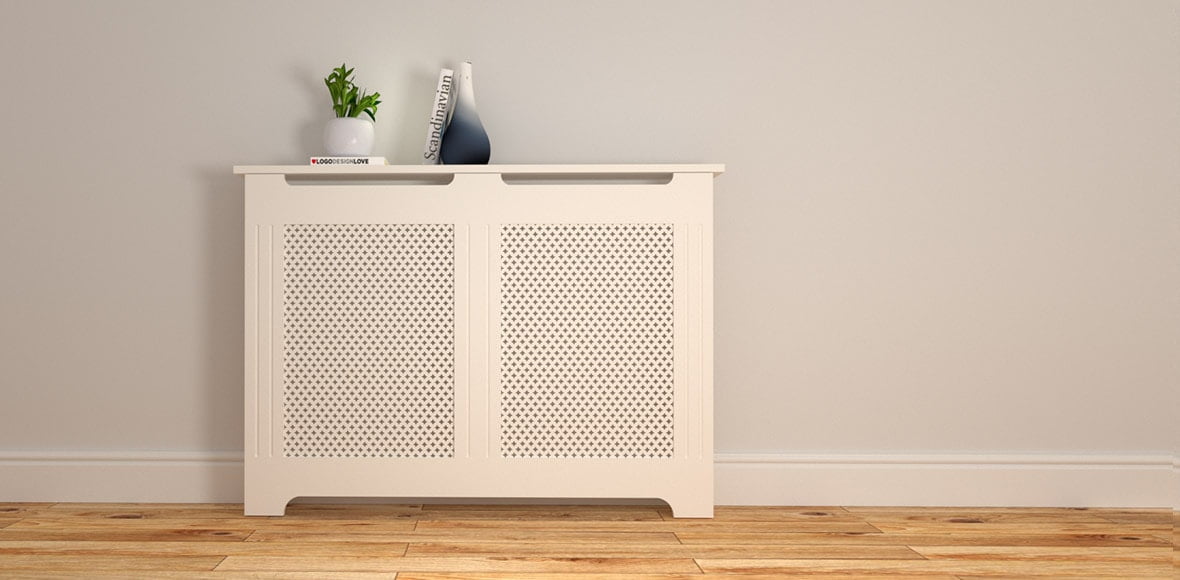 Best Radiator Covers
The #1 radiator cover shop in the Dublin area, manufactured in our workshop.
Great Styles
We sell rad covers in a variety of unique styles, finishes (any colour) and sizes.
An Affordable Service
We believe in providing a great service at a reasonable price, with no hidden costs.
We are a Radiator Cover manufacturer based in Dublin, Kylemore Park North. We sell our radiator covers here on our website taking online payments and delivering products right to your door.
We sell a wide range of radiator covers that come in a variety of styles. We do this because with furniture, one style doesn't fit all. We know that customers want their products to feel personal and unique to them. That's why we manufacture so many assorted designs.
From standard traditional grilles to some more creative and intricate designs, such as Fish scales, hexagonal, or star patterns.
The Benefits of purchasing a quality rad cover
Design 
Radiator covers not only look unique, but are a valuable addition to any home. They look great, improve your home's heating and protect you from injury. Our rad covers are sanded on all edged to give a soft, smooth finish that will be safe and sound for the entire family. The strong woods like the oak and maple we manufacture our radiator cabinets from are of the highest quality, and look absolutely brilliant with a clean white finish from our in-house spray painters here in the factory.
Warmth 
It is a fact that heat travels upwards, without a cover, heat is being lost from your radiator and travels upwards into the wall above. Heat is not being projected into to body of your home and is being lost. We recommend installing some radiator covers in the places that seem to get cold, even when the heating is on full blast. Insulation can be a brilliant way to improve the heating potential of your home, but it comes at a high cost and can be a disruptive time for you and your family living in your home. A Radiator cover is a much easier upgrade, and cost-effective too.
Function 
Our radiator covers contain the heat within a confined area and only allow it to project through the stylish designs on the face of the covers. This combines style with functionality, as the heat is produced efficiently and it looks great too. Heat is pushed outwards towards the centre of your household, allowing the heat to surround you and your family, whether it's on the couch or around the dinner table. Radiator covers will be a special addition to your home.
Radiator Covers Dublin – Raw, Primed or Spray painted?
There are a few differences between having your radiator cover Raw, Primed or spray painted. There are benefits of each, so we'll go through each of the benefits here on our site to help you make the decision on which you need.
Raw
Having your radiator cover shipped raw means you will receive it without any paint or finish. This means your radiator cover will be a solid brown colour. This is not recommended unless you have plans to paint and apply a finish yourself at home. The benefits of receiving your radiator cover raw is that it doesn't cost as much. As you can imagine it is a lot easier and cheaper for us to take the radiator cover freshly cut off the saw and send it out.
Primed
A Primed radiator cover is one of the most cost-effective solutions if you wish to paint it yourself. Primed radiator covers are just like the ones pictured on the site and are our most popular product. They are a bright white colour and finished with a protective primer.
Spray painted
Spray painted radiator covers are the high cost choice, but they are the most unique. These radiator covers can be spray painted in any colour you like. After they have been taken off the cutting saw, we send them to our in-house spray painting facility to have them painted & primed.
Covers Size Guide
Our radcovers come in three different sizes. We have categorised them at Small, Medium and Large. The exact sizes are as follows.
Small: Height 900mm x Width 1050mm (millimetres)
Medium: Height 900mm x Width 1200mm (millimetres)
Large: Height 900mm x Width 1750mm (millimetres)
We chose these sizes as these are the sizes of most heaters. If you need a size larger or smaller than this, you can contact us and we can work out the details. It is easy enough to make slight size changes to the radiator covers, so don't be afraid to give us a call.
After you choose your finish and size, we will begin the manufacturing process. We will load up the cutting saw with wood and prepare the spray painting area for painting & priming. From there, we will ship it out from here at radiator covers Dublin.
Radiator Covers Ireland
Rad Covers
Online radiator covers shop delivering in Ireland nationwide.
5
star rating from over
100
reviews on Google Places.

Unit 5C R, Kylemore Park North
Dublin
,
Ireland
$$
+35314301253
Radiator Covers Ireland - 100% Custom Made
We design the covers ourselves, we can ensure that you can still reach all the vital areas of the system such as the valve and underneath for cleaning. This is something that can't be guaranteed if you purchase yours from a store. Because our Radiator covers are manufactured in-house we can design them to fit any specifications needed, so we can ensure it can fit your home.
The safety of Rad Covers
They are also suitable for homes with small children. They are a major safety hazard for small children that most parents overlook. Accidents happen and the radiators fitted in most Irish homes are not safe for your little ones, they have sharp edges and most of them can even cause burning due to high temperatures.
All the edges on our radiator covers Dublin have been sanded to a smooth curve and are guaranteed to never reach high temperatures to ensure your family's safety. Radiator covers are stylish and modern upgrade to your home, with so many designs, shapes and sizes, we're certain that we can make a radiator cover that suits all your needs.
Radiator cover design
Our radiator covers come in so many different styles and designs. We try to make the most diverse selection of radiator cover designs. We have everything from simple traditional style, with the straight cut. All the way to intricate, beautiful natural designs such as fish scales, waves, and stars.